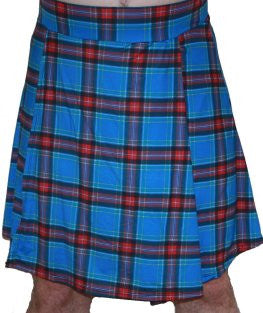 NEW Men's Running Kilt Blue / Plaid
A Kilt - worn as a show of strength and stamina with significance. 
A pattern and plaid unites a group of individuals who stand together - and run together - as one.  Our lightweight Running Kilts aim to make those who dare to wear comfortable. 
Made in the USA out of eco-friendly fabric (84% recycled plastic bottles, to keep them lightweight, and 16% Spandex to keep their shape),
Our Running Kilts are flexible, fashionable and washable (which makes it great after an obstacle and mud run!)  And, with their large, zippered pocket in the back, they are also functional!
Note: while our women's kilts do have sewn-in shorts, our men's kilt does not have shorts underneath (the eternal question answered)!
FAQ:
How do the Men's Running Kilts fit?
The sizing for our JWalking Designs' Men's Running Kilts has been called "generous". Our wider-waistband is forgiving and can sit both-on or below the waist – depending on how you like your kilts to fit. Our waist sizes, as well as lengths, are at the bottom of our questions.

Do the Men's Running Kilts have sewn-in shorts underneath?
Our Men's Running Kilts do not have sewn-in shorts, allowing you to choose what, if anything, you'd like to wear underneath! (The eternal "What's under your kilt?" question answered!). Our wide-waistband and comfort fit fits shorts, compression pants or tights you may want to add.
Let's talk pockets.
Our Men's Running Kilts have a large, secure pocket on the back waistband. The zippered pocket fits cash, cards, key and your cell phone – if you need it on a race, it has its place.
What is the fabric?
Our JWalking Designs' kilts, skirts and shirts are Made in the USA fromEcoGreen fabric, which is 84% Recycled Plastic Bottles (yes, the water bottles we drink from) and 16% Spandex. The Recycled Plastic in our moisture-wicking fabric keeps our creations breathable, comfortable and flexible, and the Spandex keeps their shape.
What are the washing instructions?
Our EcoGreen fabric is washable, which is especially great for our Mud Runners and Obstacle Racers! We recommend our products be washed Machine Wash Cold, with like colors, or hand-washed and Hung / Line Dried.
MEN'S RUNNING KILT MEASUREMENTS
| | | | |
| --- | --- | --- | --- |
| Size (US) | Waist | Hip | Total Length |
| Small | 31" | 36" | 21 ½" |
| Medium | 33" | 38" | 22" |
| Large | 35" | 40" | 22 1/2" |
| XLarge | 37" | 42" | 23" |