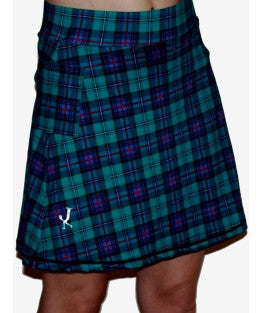 "Mad About Plaid" Women's Active Skirt / Kilt - Green/Blue
Mad About Plaid?  We certainly are, especially our limited-edition, eye-catching green/blue plaid!
Why JWalk?  Here's why:
FIT: Our Mad About Plaid active skirts, with sewn-in shorts, have a wider waistband and longer length that flatter women of all shapes and sizes.  
FUNCTION: Three secure pockets - one zippered in the back and one on the left side, and a velcro-secured pocket on the right -  provide ample space for you to carry everything from cash and keys, to phone and food. If you need it on a race, it'll have its place.
FASHION: Who here wants to look sleek and stylish everywhere from the gym to the grocery store? Um, we all do! Our active skirts transition seemlessly from workout to go out.  And trust us, you'll stand out!
Made in the USA, from 84% Eco-Friendly recycled fabric and spandex, our skirts are lightweight, breathable and comfortable in hot and cold temperatures!
FAQ:
How do the Women's Active Skirts / Kilts fit?
The sizing for our JWalking Designs' Women's Active Skirts / Kilts / Skorts has been called "generous". Our wider-waistband is forgiving and built for comfort.  It can sit both-on or below the waist – depending on how you like your skirts/kilts to fit. Our waist sizes, as well as lengths, which land mid-thigh depending on both the size chosen and the length of your legs, are at the bottom.

Do the Women's Active Skirts / Kilts have sewn-in shorts underneath?
Yes, our Women's Active Skirts / Kilts have sewn-in shorts underneath! They are made from the same eco-friendly fabric as our skirts and kilts. The sewn-in shorts are flattering and fitting, but not true compression. 

How long are the sewn-in shorts? Does the skirt material fully cover the shorts?
The sewn-in shorts have a 5" inseam, which is longer than many of our competitors. With our graded lengths, the skirt material fully covers the shorts – back and front – giving a fantastic 360 degree view of you!

Let's talk pockets.
Our Women's Active Skirts / Kilts have three, count 'em three, secure pockets!
A zippered pocket on the back waistband to fit your cash, cards and keys.
A zippered pocket on the left side large enough to comfortably fit your smart phone and grocery lists
A Velcro-secured pocket on the right side to fit race nutrition, snacks, lip balm - if you need it on, or after, a race, it has its place! 
What is the fabric?
Our JWalking Designs' kilts, skirts and shirts are Made in the USA from EcoGreen fabric, which is 84% Recycled Plastic Bottles (yes, the water bottles we drink from) and 16% Spandex. The Recycled Plastic in our moisture-wicking fabric keeps our creations breathable, comfortable and flexible, and the Spandex keeps their shape.

What are the washing instructions?
Our EcoGreen fabric is washable, which is especially great for our Mud Runners and Obstacle Racers! We recommend our products be washed Machine Wash Cold, with like colors, or hand-washed and Hung / Line Dried.
WOMEN'S PLAID ACTIVE SKIRT MEASUREMENTS
| | | | | |
| --- | --- | --- | --- | --- |
| Size (US) | Waist | Hip | Shorts Inseam | Total Length |
| Small | 29" | 33" | 5" | 16 ½" |
| Medium | 32" | 35" | 5" | 17" |
| Large | 34" | 37" | 5" | 17 ½" |
| XLarge | 36" | 39" | 5" | 18" |
| XXLarge | 38" | 41" | 5" | 18 ½" |