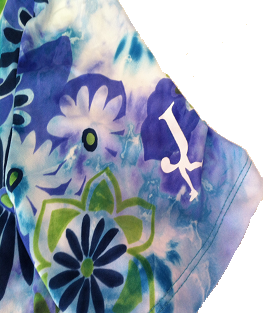 Blue-Green Floral Men's Button-Down Running / Golfing Shirt
A button-down, collared shirt, breathable and comfortable enough to run and golf in?  Yes, you read that right!  
Our ultra-running friend, Dave, asked if we could make him a Hawaiian shirt - button-down, collared and comfortable enough in which he could run 100 miles in the Arizona desert...   Well Dave, asked and answered!
From workout to go out, our unique button-down, collared running and golfing shirt just works.  Made in the USA from 84% recycled fabric, it is lightweight, breathable and comfortable - not to mention fashionable!
FAQ:
How do the Men's Button-Down, Collared Hawaiian Golf / Running Shirts fit?
The sizing for our JWalking Designs' Men's Button-Down, Collared Hawaiian Shirts is considered to be "fitted" across the chest and shoulders, but more open along the body.  The sizing can be found at the bottom of our questions.
What is the fabric?
Our JWalking Designs' kilts, skirts and shirts are Made in the USA from EcoGreen fabric, which is 84% Recycled Plastic Bottles (yes, the water bottles we drink from) and 16% Spandex. The Recycled Plastic in our moisture-wicking fabric keeps our creations breathable, comfortable and flexible, and the Spandex keeps their shape. 

What are the washing instructions?
Our EcoGreen fabric is washable, which is especially great for our Mud Runners and Obstacle Racers! We recommend our products be washed Machine Wash Cold, with like colors, or hand-washed and Hung / Line Dried.
MEN'S BUTTON-DOWN RUNNING  GOLFING SHIRT MEASUREMENTS
| | | | | |
| --- | --- | --- | --- | --- |
| Size (US) | Neck | Chest | Sleeve Length | Total Length |
| Small | 17 ¼" | 39" | 9 ¾" | 29" |
| Medium | 18" | 42" | 10" | 29 ½" |
| Large | 18 ¾" | 44" | 10 ¼" | 30" |
| XLarge | 19 ½" | 46" | 10 ½" | 30 ½" |